,
"Lightweight, refreshing, gentle and effective." Those are the four words I'd use to describe the Blissoma line. I'd been hearing about Blissoma for many years and, up until now, I haven't had the pleasure of trying out their line. Now that I have, I understand what all of the buzz was about. Once you use their products, you'll see just how much thought and care goes into each product and how every ingredient serves a very distinct purpose. SPECIAL OFFER: get a free sample set with any order, details below!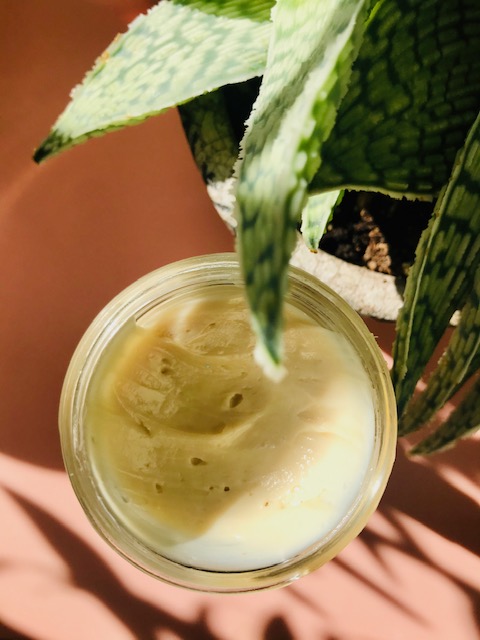 Lavish – Loving Recovery Beta-glucan Mask It seems like the beauty industry is so inundated with masks that are formulated to detoxify and/or exfoliate the skin. Sure, there's some hydrating ones, but how many are designed to simply nourish the skin? That's why I found Lavish to be so unique. Formulated to get deep down and penetrate mature, inflamed, super dry and stressed skin, this mask not only delivers moisture, but it also calms the skin with best of the best: oatmilk, reishi and maitake mushrooms and cupuacu butter for retaining moisture. Lavish goes on like a silky cream and your skin will just eat it up. This mask would be fantastic post-sun exposure, wind or before applying makeup. And in case you're wondering what Beta-glucans are: "Beta-glucans are special sugars from oats and mushrooms capable of penetrating deeply through multiple layers of skin which means hydration in places other ingredients may not reach." I really love the way that this mask took the redness out of my skin and left it feeling calm, soft and hydrated.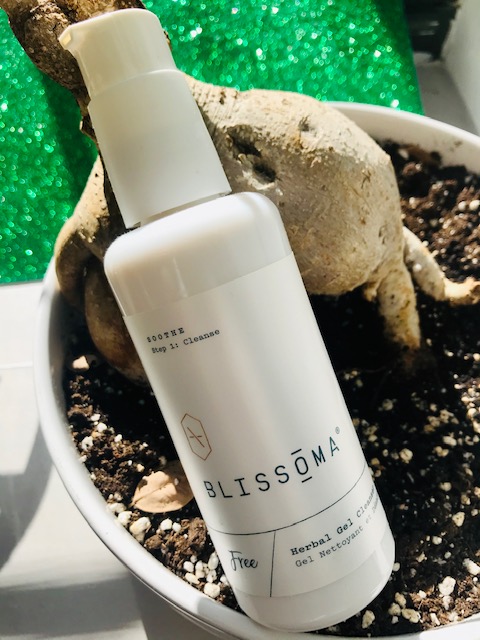 Free Rejuvenating Herbal Gel Cleanser + Makeup Remover
This unscented, pure cleanser is a true treat. Why? Well, just like all of the Blissoma products I've been using, it's light, refreshing and leaves the skin smooth and clean. There's absolutely zero post-cleanse tightness as Free contains organic sunflower seed oil to keep the skin moisturized. This organic herb cleanser has a wonderful gel/serum consistency and it's really easy to use. If you're just washing your face, simply massage Free all over and rinse with water, but when removing heavy duty or waterproof makeup, I suggest using a cloth and warm water. I've always been a big fan of having one product to both cleanse and remove my makeup (two-in-one products are also excellent for travel). Due to the gentle ingredients and lightweight feel, sensitive skins will really appreciate Free.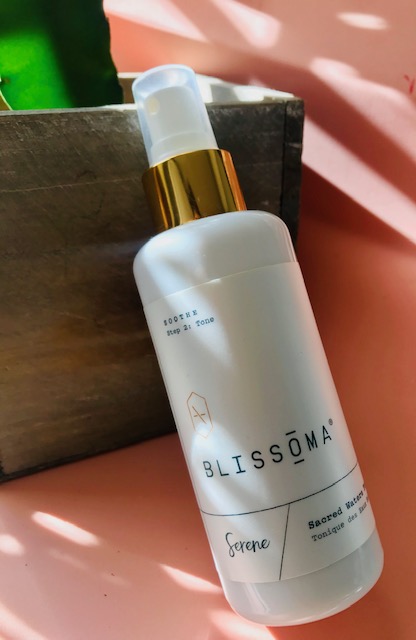 Serene – Sacred Waters Tonique There are two kinds of toners out there – the astringent kind that you use to remove residual makeup, etc. and then there's the nourishing kind that offers the skin hydration while helping your oil, serum or cream to absorb better into your skin. Serene is of the hydrating kind and it's lovely! I was thrilled to try out a new toner as I'm a big fan of them and I have to say that Blissoma knocked it out of the park with this one. Not only is it so refreshing and hydrating, but the bottle gives you that great spray shot and I absolutely love the scent – energizing, fresh and clean. Serene is also great for sensitive skin types and is 100% natural. I find myself reaching for it midday when I'm home working because it's just so uplifting. With a base of organic Holy Basil and organic rose hydrosol along with Gentian root for brightening and antioxidants Gotu Kola and hops make Serene more of a treatment than just your average toner. Highly recommending…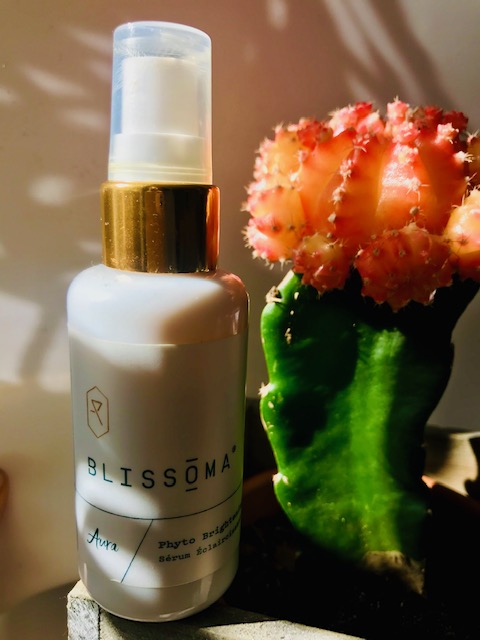 Aura – Phyto Brightening Serum You know what's huge in beauty these days? Products that brighten the skin without using harsh ingredients, rough grains or synthetics. We now know that one of the reasons our skin can end up looking dull and tired is from a buildup of dead skin cells, but did you also know that sun damage can give your skin a dull appearance, as well? Aura is a super lightweight, non-greasy, golden serum that contains 14 active ingredients and can be used under your daily moisturizer, serum or foundation. Many brightening products can only be used at night (or aren't good for sensitive skin) so this is brilliant. Aura absorbs so quickly without any oily feel, making it a perfect base for your everyday skin regime. With a mixture of herbs, antioxidants and powerful Vitamin C, Aura is able to protect the skin from the environment while treating sun damage and dull skin. You can also use Aura as a preventative treatment – before and after sun exposure. Some of the powerful ingredients? Fermented Wasabi, Coenzyme Q10 and pomegranate extract (sounds good, right?)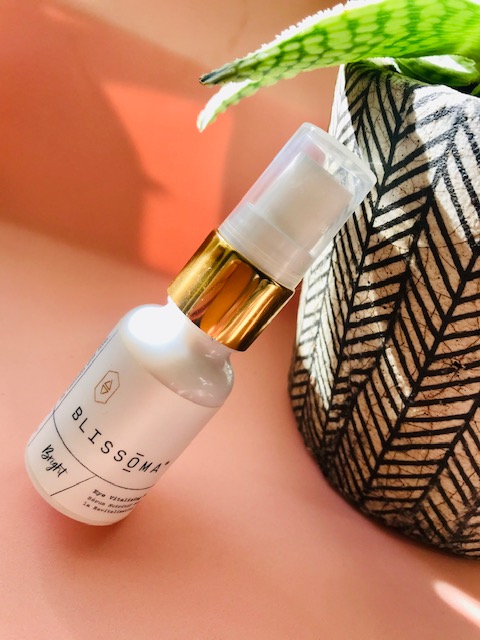 Bright – Eye Vitalizing Nutrient Serum For all of you out there that don't like a thick, heavy eye cream or an oil under your eyes, here's your new obsession. Bright, like all of the Blissoma products I've used, is lightweight and feels so good under the eyes. Great for all skin types, including sensitive skins, Bright sets out to improve the appearance of dark circles, help improve elasticity and to minimize wrinkles (it's also wonderful under concealer as it spreads on easily and absorbs quickly). With 19 active ingredients including organic herbs, vitamin C, antioxidants and oils (red raspberry, pomegranate, argan, rosehip, to name a few), Bright is both potent and incredibly gentle at the same time. I recommend using this eye serum both day and night for best results. Being consistent will really help you as I've been using eye products since I'm in my early 20s and it makes a big difference as you get older.
SPECIAL OFFER FOR A LIMITED TIME
For a limited time, Blissoma is generously offering a free sample set with the purchase of any one other item. Plus, the sample set comes with free shipping! So, if you're a big fan or if you're new to the line, this is an excellent offer for you. Get on this while it lasts! Use code: SAMPLEBLISS here.
This is a sponsored post. All opinions are my own.
,
,