, Sad day friends. Physicians Formula appears to be selling in China and can no longer be considered cruelty free. I have removed them from my cruelty free beauty brand list. Read on for details.
The post Physicians Formula is No Longer Cruelty Free appeared first on My Beauty Bunny – Cruelty Free Lifestyle Blog.,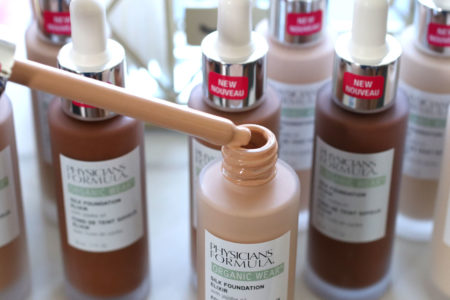 ,
Physicians Formula is No Longer Cruelty Free
UPDATE (2/19/20): I've been emailing back and forth with Alice Chen, VP of Marketing for Physicians Formula and Head of Corporate Communications for Markwins International. Here is her quote:
Physicians Formula product sold in China are domestically produced—they are not the same product sold in North America, have no special use ingredients, and we are currently working with Leaping Bunny and their certification program. We have also remained cruelty-free according to Peta, as our products are domestically manufactured non-special use cosmetics. We are committed to not introducing any products that would require tests on animals, commit to withdrawing products from any region rather than allowing any tests on animals should they become required, and will inform Chinese authorities of this policy to ensure that they are notified and can withdraw from the market in the unlikely event that tests on animals become required for our product. 
So, she is confirming that Physicians Formula does sell in China. The products for the Chinese market are made domestically in China and they are not using special use ingredients. This is how they avoid PRE-market testing. So, the only animal testing that MIGHT be done is if a consumer complains and they have to do post-market testing. They are saying that if this should occur, they will withdraw from the Chinese market (but, I believe by then the animal tests would have been done).
The animal rights organizations are not in agreement on whether post-market testing still involves animals (PETA says it doesn't but they haven't been able to provide me with any proof of that). For now, I'm playing it safe and avoiding companies who sell in China and aren't part of the Leaping Bunny pilot program (Physicians Formula and Wet n Wild are not). I reached out to Leaping Bunny and Physicians Formula is NOT in talks with them at this time.
But, all that being said, after speaking with my contacts in the cruelty free community, I have a feeling that in the near future post-market animal testing in China won't be an issue. Leaping Bunny is waiting to hear about the new CSAR regulations coming from China, but that may be delayed due to the coronavirus outbreak. If the Chinese authorities end post-market and pre-market testing, Leaping Bunny will be able to certify more companies who are selling in China. From what I hear, it is still a very expensive undertaking and only the larger companies will be able to afford it. Until then, I will NOT consider Physicians Formula (or Wet n Wild) to be cruelty free.
Oh – and side note, Physicians Formula says they didn't block my email, but it's still blocked. It could be a coincidence – your guess is as good as mine.
Physicians Formula is Selling in China
Well, today is a sad day for me. I have to share the bad news that Physicians Formula is no longer cruelty free. I have been a huge supporter of the brand for years, and likewise, they have been a supporter of My Beauty Bunny. Physicians Formula has been a trusted brand for so long, and the term "Physicians Formula cruelty free" has brought a lot of traffic to my blog over the years. Unfortunately, I have learned that they are selling in China (like their sister brand, Wet n Wild), and can no longer be considered cruelty free.
I first learned about this last October. I saw that @makeupcrayz shared screenshots of the Physicians Formula products being sold in China. To be fair, there are some ways to get around animal testing in China (domestic production, no special use ingredients, and being part of the Leaping Bunny pilot program). But, most brands have not been able to do this. And brands that are not part of Leaping Bunny's pilot program could potentially be subject to random post-market tests in the case of a consumer complaint. Plus, random screenshots from someone I don't know can't always be trusted. Because of that, I gave them the benefit of the doubt. I asked what was going on, and was told that they were looking into it. I checked in repeatedly over the last four months. I was told they were preparing a statement.
I finally told them that I could not wait any longer. They told me they were scheduling a meeting with the VP and AVP on Monday, February 17th and would get back to me with their statement. I checked in on the morning of February 18th and got no response. I emailed them to let them know that I would be making this announcement, only to find that my email was blocked from their server. I checked in with my fellow cruelty free bloggers, and their inquiries were also ignored by Physicians Formula.
I was really hoping that they would have an explanation for these photos. I don't like to announce something like this until I have all the facts. But unfortunately, their silence speaks volumes. For that reason, I have removed Physicians Formula from my cruelty free beauty brand list. For those who don't know, Wet n Wild (their sister brand – also owned by Markwins) was also removed last year for the same reason. Please comment on their social media pages and let them know that we are NOT okay with this. I'm hoping they will hear our cries, and pull out of China.
You can see my regularly updated list of cruelty free brands here!