,
I've always believed that what I put in my body is as important (if not more important) than what I put on my body, so for years I've been studying up on the best supplements to support healthy skin and hair. That's why I've teamed up with iHerb, a trusted brand with high quality, fresh products who has been leading natural wellness for over two decades. From iHerb, I've picked some of my favorite supplements from their line that I use daily to keep my skin hydrated and clear and my hair thick and healthy. I hope you enjoy them as much as I do! And, as always, check with your doctor before starting anything new.
SKIN, HAIR, NAILS
Solgar, Skin, Nails & Hair, Advanced MSM Formula contains a powerhouse of nutrients to help support hair, skin and nails from the inside. If you've ever had peeling nails and dry, flaky skin, you know something isn't right with your diet. Taking a supplement to help give your body the nutrients it's lacking is always my first move. This vegan, gluten, wheat and dairy-free supplement is designed to help support collagen, which decreases as we age. In addition, it contains copper, which is vital in helping to reduce wrinkles, support skin firmness, suppleness and is a powerful antioxidant, too. This formula also contains Vitamin C which helps your body to repair damaged skin cells by aiding your skin's natural regeneration process.
FLAX
Now Foods Certified Organic Flax Seeds I highly recommend incorporating flax seeds into your daily routine as they have so many skin benefits. I've been adding flax seeds to my morning smoothie for years as the essential fatty acids help to keep my skin hydrated, plump and glowing. The lignans are potent antioxidants that also protect the skin from sun damage (cool, right?) Flax seeds also contain omega-3 acids that help the body to produce collagen for smoothness and elasticity. Keep in mind that the more omega-3 acids you have in your body, the more resilient the fat layers around your skin cells. Acne issues? Flax seeds also keep your digestive track clear, which helps to prevent breakouts, too.
CHIA
Navitas Organics, Organic Chia Seeds This is yet another must-have in my smoothie each day! Chia seeds don't have much of a taste, but they do offer a little bit of a crunch and texture to my smoothie, which I love. You probably have noticed that a lot of skincare brands have been adding Chia Seed Oil to their products these days, but there's nothing like consuming these little health heroes internally, as well. Loaded with nutrients, Chia seeds are also full of protein (just like hair) so they do wonders to help keep it strong, thick and to prevent hair loss (thanks to all of the Omega-3s). The protein in Chia seeds is also essential for collagen production to keep skin strong. Acne issues? The Omega-3 fatty acids and magnesium in chia seeds help ease inflammation associated with acne. They are also loaded with antioxidants so they're able to help protect cells against free radical damage and premature aging.
MATCHA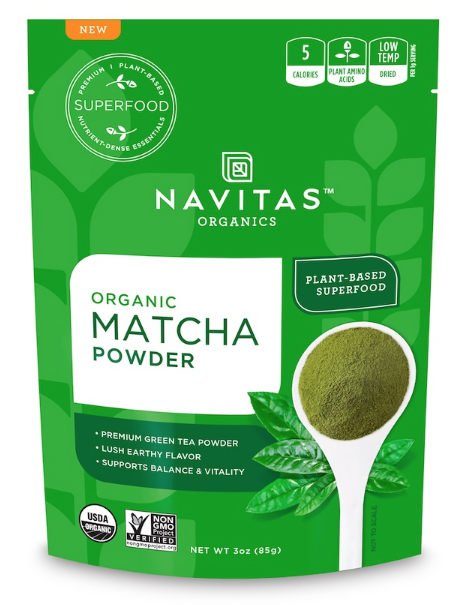 Navitas Organics Organic Matcha Powder Matcha is made up of dried and crushed leaves of the Camellia sinensis plant and has been a staple in Japanese culture since the 12th century. Matcha, a vegan, gluten-free superfood, has many health benefits, but did you know that it's excellent for the skin, as well? Matcha contains high levels of epigallocatechin gallate (commonly known as EGCG). EGCG is excellent for reducing inflammation, to help even out skin tone and due to its anti-bacterial and antibiotic properties, it also helps with acne and blemishes, too. My favorite thing about Matcha? It's great for increasing skin elasticity and it's high chlorophyll content makes it excellent for protecting skin from sun damage which means less wrinkles and sun spots! You can use the Navitas Organics' Matcha powder in smoothies, for baking and as a traditional tea or latte. I highly recommend incorporating some Matcha into your daily skin care routine.
This is a sponsored post. All opinions are my own.
,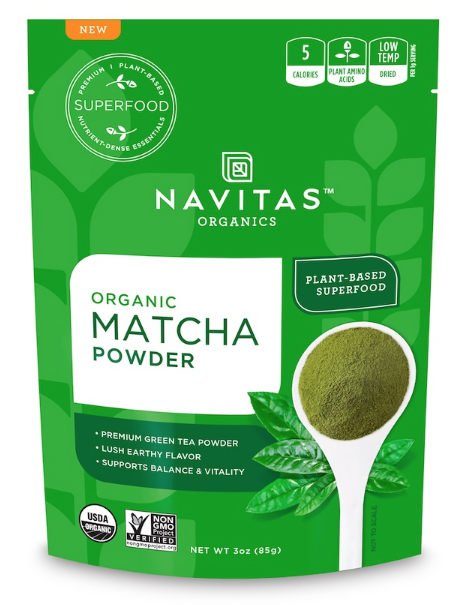 ,